Travel and Adventure?  We were born to….
Educate and Inspire? We hope to….
Both of us came from very international families, spent time growing up in several different countries and continue to live and travel abroad. Our three girls were born and have lived their lives in Hong Kong but have had many adventures travelling through Asia, Australia, Africa and North America already!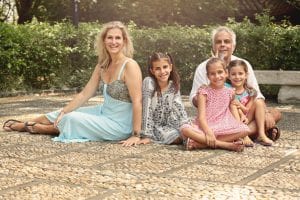 Doug – My father is from Trinidad and Tobago and my mother is from Newfoundland but was born before Newfoundland joined Canada. I was born in Canada but my brother was born in France and we grew up across Canada and in Belgium and Germany.
Before falling in love and settling in Hong Kong I spent three years on the road! My first year was in southern Africa with a one man tent. The second was spent driving Canada and the United States living in a VW van, and the third year was spent traveling Asia.
After 14 years in HK, it's time to hit the road and live the adventure again, but this time travelling as a family of five! Times sure have changed!