We rented another Toyota Avanza in Durban and stuffed our packs inside and it was off to St. Lucia with Captain Marie-Christine at the wheel.   Personally I hate driving and she likes it so the choice is clear.  I am also a poor passenger so whether I drive or sit in the co-pilot seat it is not much fun for anyone.   Downside of all cars here is the stick shift combined with driving on the left side of the road.  M.C. however had minimal issues.
Bib's Hostel was recommended by the Baz Bus and was in our price range- it was a great little place to stay. Our accommodation was simple and rustic but reinforces the real attraction of hostels – the people one mets there. Small rooms make you head to the common areas to mingle and chat. Mariska and Chris, the owners, their new assistant Rob ( who had grown up in the Kruger) and a chap called Yuri who walked to all towns in South Africa over a 4+ year period ( after the death of his family – sad story). Mariska was so welcoming we even had a braai with her two brothers and their families. People like Mariska and her family are what make this country truly amazing. We candidly discussed politics, the future of South Africa, the race relations etc. We also had a lot of laughs and the girls helped cook and do dishes too. We left with a group of new friends…it was fantastic! Their stories of St Lucia and its street walking hippos were damn funny. And the usual stories of tourists running up towards the hippos as the giant beasts walk thru town had us in stitches. In Africa hippos kill more people than any other animal! Night was so dark here that the sky lit up with stars and you could hear the hippos on their midnight wanders.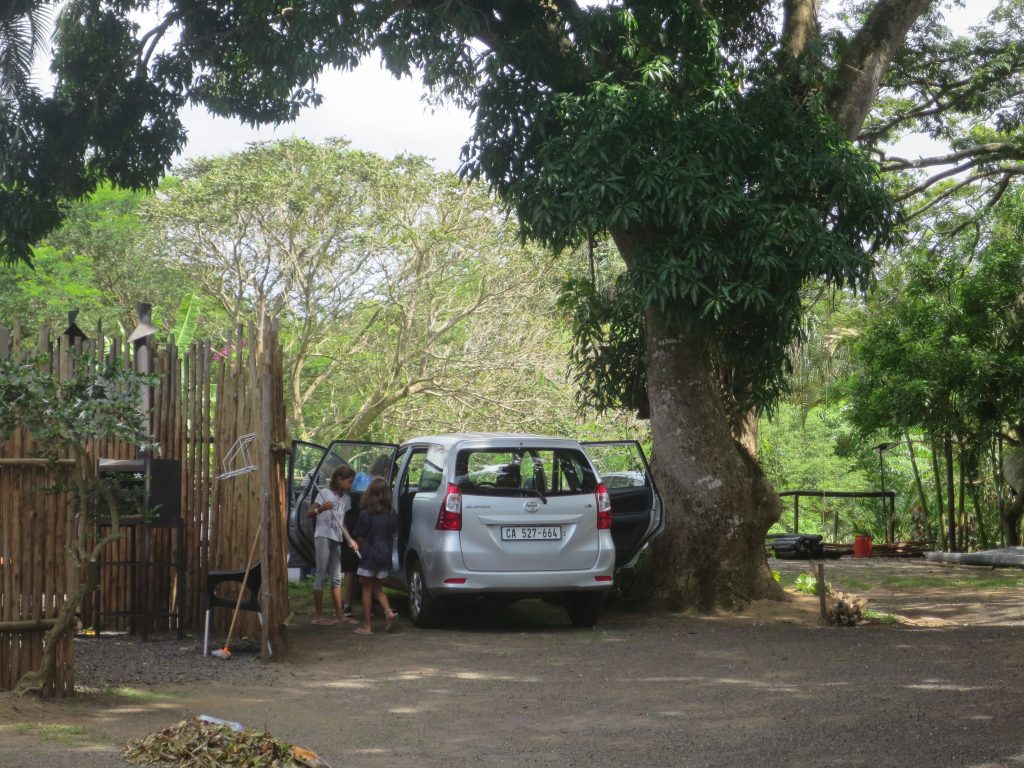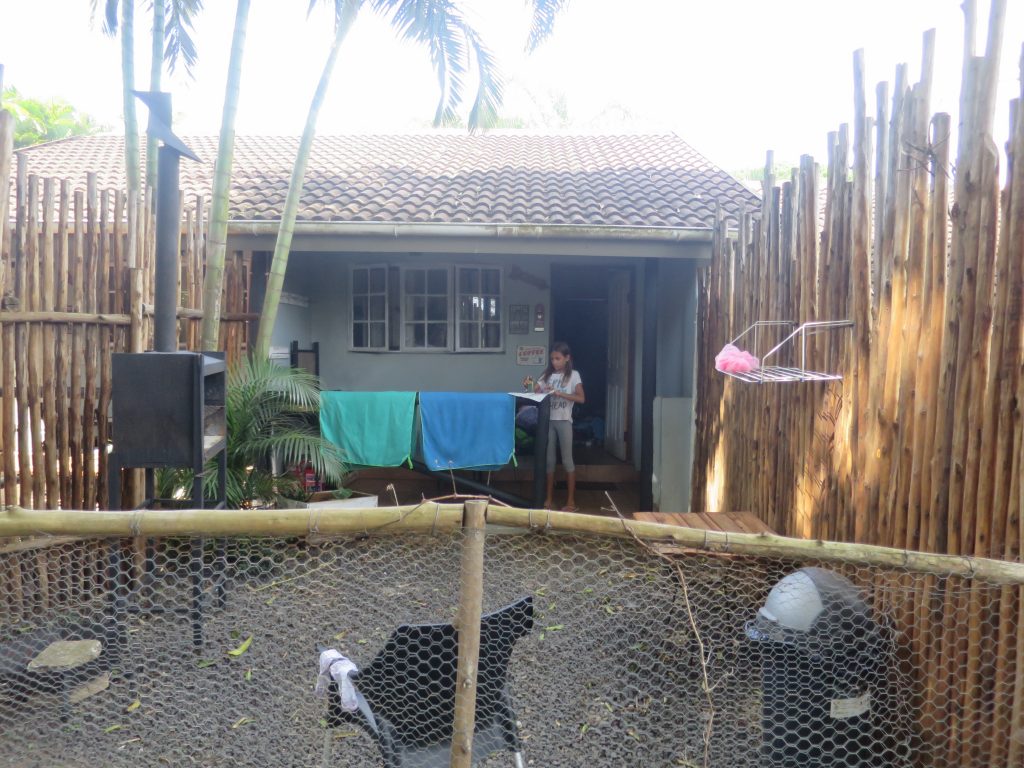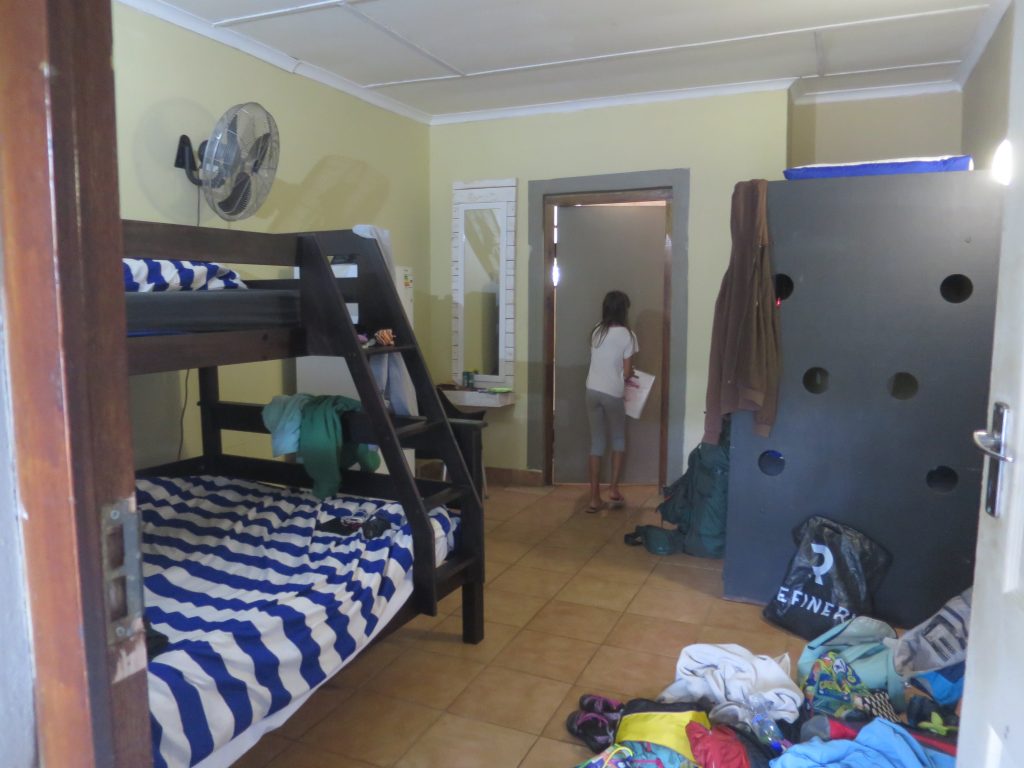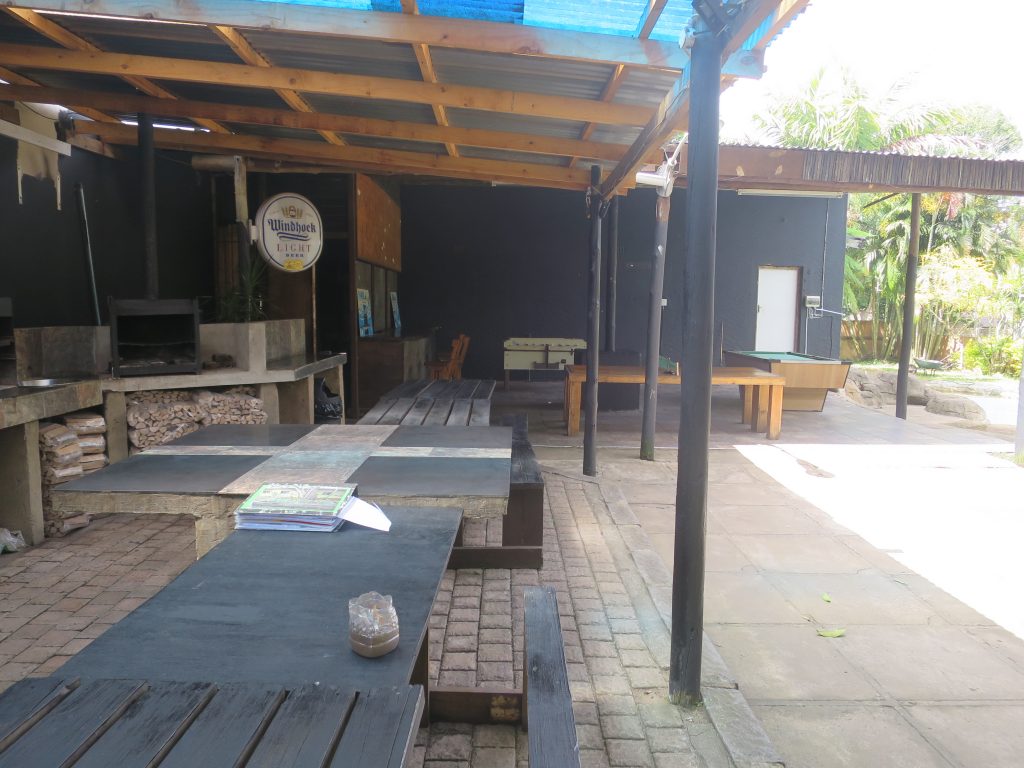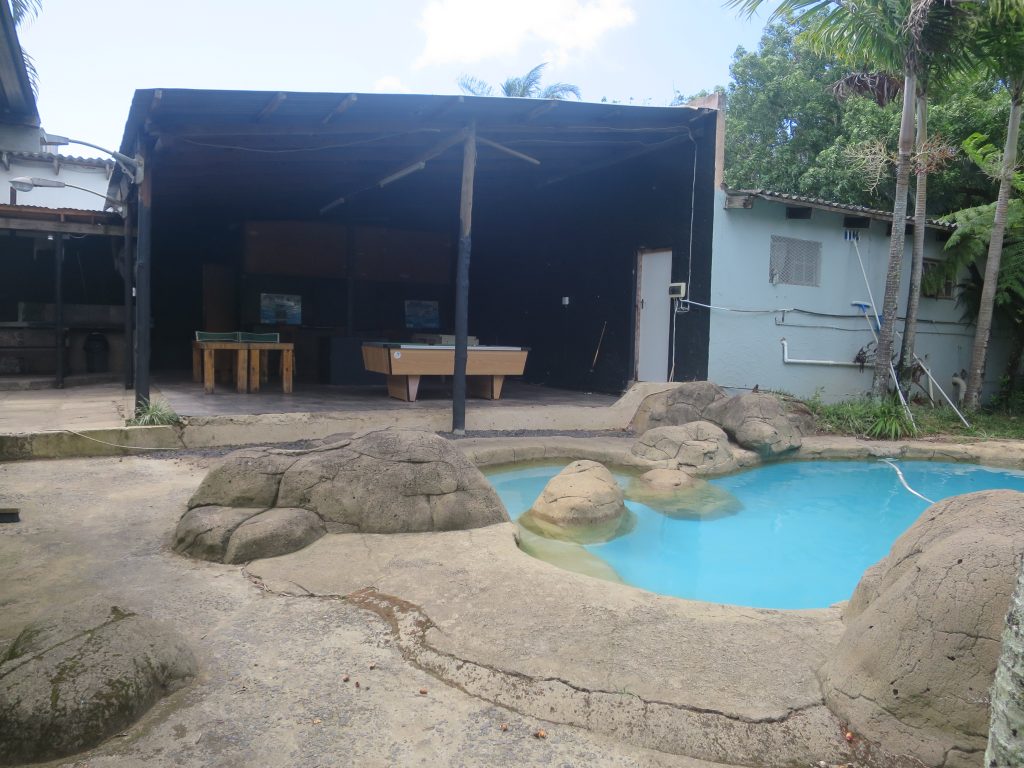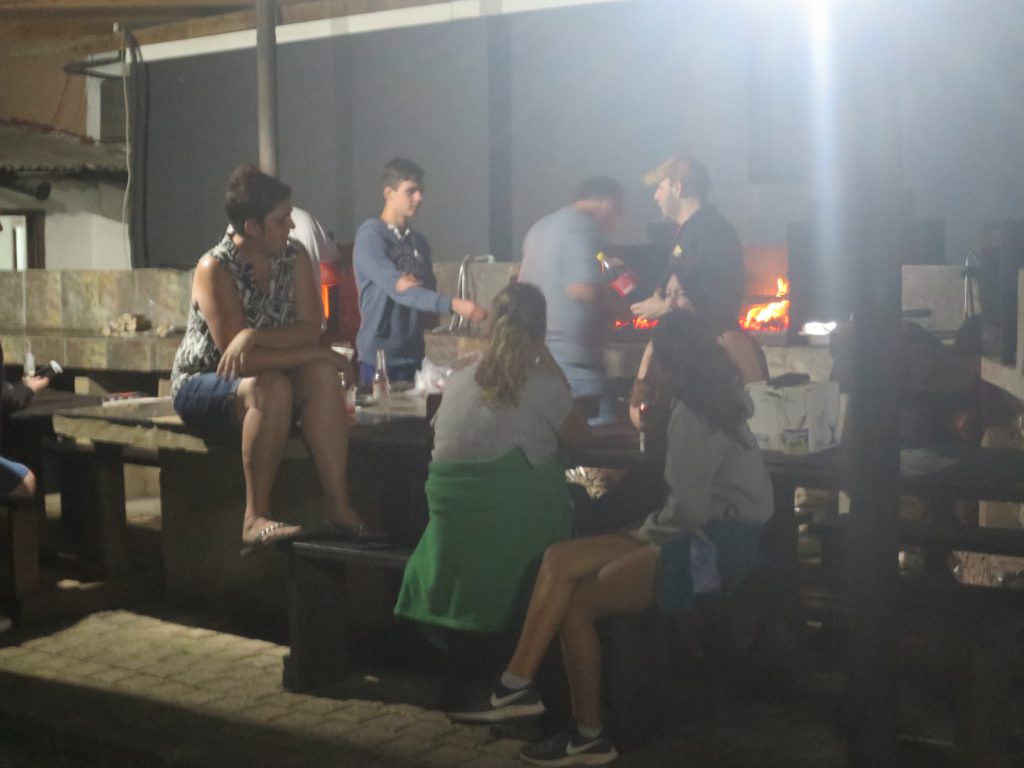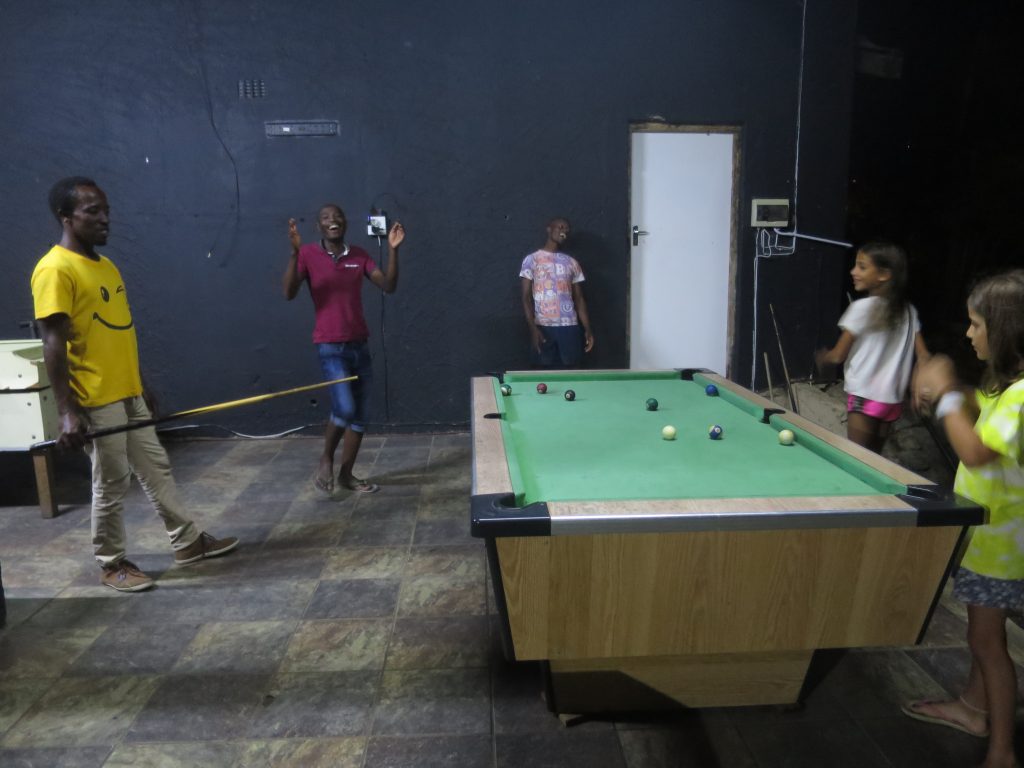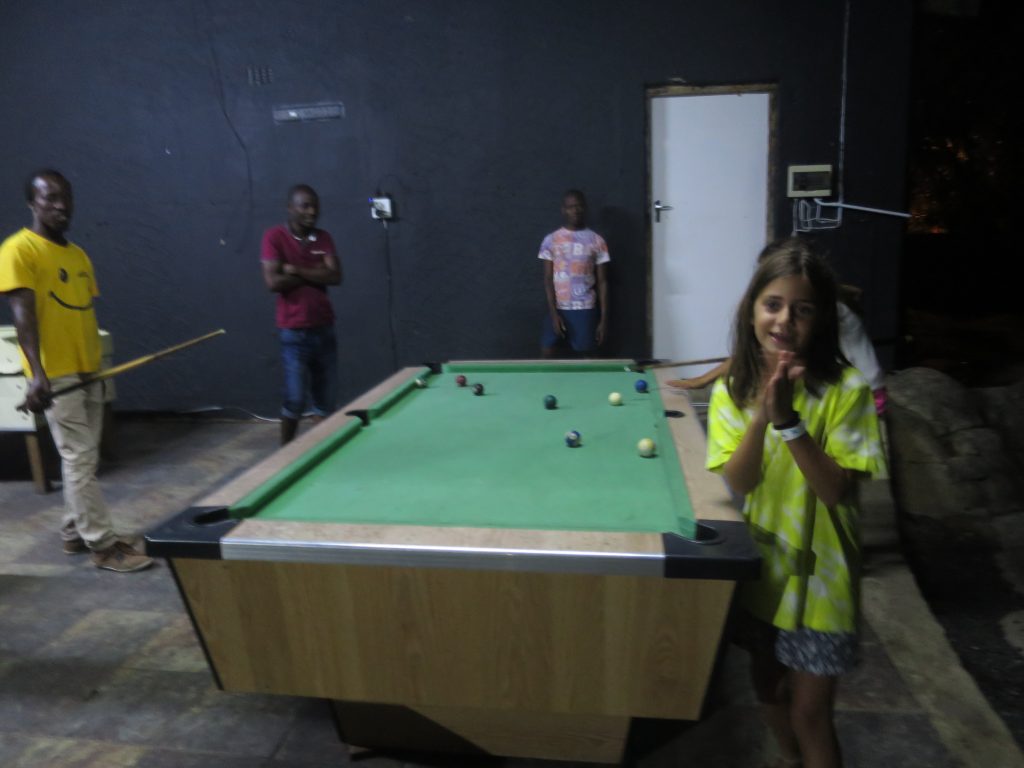 I had remembered the St. Lucia area for its lovely wetlands park and the incomparable Hluhluwe-Imfolozi Game Park (the first word is pronounced shlu shlu wee – no lie!). https://en.m.wikipedia.org/wiki/Hluhluwe–Imfolozi_Park For me it is the best park in South Africa – lots of animals in a beautiful setting. It has lots of rhinos which often get exported to other parks. This was the first game park in all of Africa.
We did a one day tour to Hluhluwe as all the nearby overnight places were full.  We left before 6am and were given awesome fleece lined ponchos to keep us warm in the relative open air safari vehicle.   Our guide Jeanne was amazing.  He had been guiding the park for 20+ years and was a wealth of knowledge, and could spot animals at incredible distances.  Our family is also very good at game spotting.  We shared the tour with a young German/Italian couple on their honeymoon and an older Swiss couple.   The Swiss couple told me – the guide was great but your family was able to show us many things he could not see!     We had an amazing bush breakfast and a yummy braai for lunch.  At one point Jeanne asked us if it was OK if the tour ran overtime – everyone almost shouted YES!